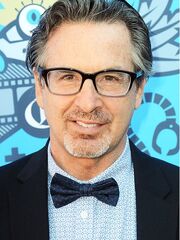 Appearing in over 130 TV shows and films, Robert Carradine is an American actor, producer and musician.
Early Life
Son and younger brother to veteran actors John and David Carradine, respectively, Robert Reed Carradine was born on March 24, 1954. When he was a toddler, his parents went through a bitter divorce, and Robert, along with brothers Keith and Christopher, was briefly placed in foster care. Their father eventually won custody of the boys. By the time he reached high school, he was living with David, where he learned to fall in love with race car driving, music, and acting.[1]
Career
His first real acting job was for a 1971 episode of the TV Western Bonanza, while still a teenager.[2] Very shortly after, he appeared in his first film role alongside screen legend John Wayne, in The Cowboys.[3]
Robert appeared in numerous films alongside David, including Mean Streets, Cannonball, and The Long Riders. He also appeared (with father John) in an episode of David's genre western TV series, Kung Fu.[1][4]
His first starring vehicle was as Johnny Crystal, in the 1976 teen sex comedy, The Pom Pom Girls.[5] 1984 would see the premiere of his breakout role, that of slide rule wizard Lewis Skolnick, in 20th Century Fox's Revenge of the Nerds.[6]
Among millennials, Carradine is perhaps better known as Sam, the bumbling father of Lizzie McGuire. He also directed one episode of the Disney series.
Personal Life
Robert is married to Edith Carradine (aka Edie Mani),[7] but they have been in the process of divorcing since December, 2015.[8] He has three grown children.[9]
References