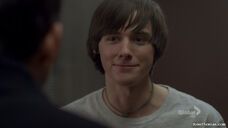 Jake Thomas stars as Jason Stickler, who as the son of the CIA director has access to the best spy gadgets and often uses them to vie for the attention of his crush, Maiara, on "Cory in the House."
Jake Thomas has starred in numerous films including "Trick or Treat;" "Artificial Intelligence" (which he won the Young Actor Award for Best Supporting Young Actor in a Feature Film) and "The Lizzie McGuire Movie," based on the hugely successful Disney Channel Original series "Lizzie McGuire," where he originated the role of Lizzie's precocious little brother Matt.
In addition to 64 episodes of "Lizzie McGuire," Jake Thomas's television credits include guest-starring roles on "Without a Trace," "3rd Rock from the Sun," and "National Lampoon's Christmas Vacation 2."
The Knoxville, Tennessee, native celebrates his birthday on January 30. Jake Thomas lives in Los Angeles.
Tribute videos: