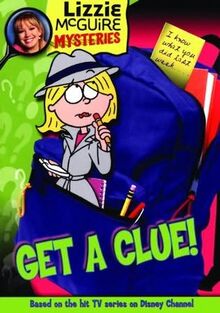 Get a Clue! is the first Novel of the Lizzie McGuire Mysteries, and was released on 11 May 2004, in the USA. It was written by various writers, and has a Nancy-Drew Style. This book was released in the UK on 30 November 2009.
Creepy-Notes start to appear at school in students bags, lockers, lunchbags, all the evidence points to Lizzie McGuire, herself! But, Lizzie didn't write them, and with the help of her BFF's, Gordo and Miranda, tries to play detective, clear her name and find out whodunnit, once and for all!
Suspects
Edit
Kate Sanders- threatens everyone like dirt, ever since she was granted her Cheerleader, Superpower- (Ugh!)
Carole Shelton- She's taken an awfully suspicious interest in this dilemma. (Hmmmm......) .
Ms Young- She's been acting really weird- spying on students and talking to herself (Yikes!).