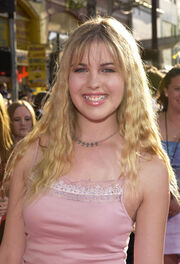 Ashlie Theresa Brillault (born May 21, 1987) is an American actress and lawyer. She is best known for her role as Kate Sanders on Lizzie McGuire.
Career
Ashlie started modeling when she was 3 years old. At age 6, she started acting classes at the Beverly Hills Acting School. During her school years, Ashlie excelled well in drama classes and school performances. Her big break came when she auditioned for a role on Lizzie McGuire, and ultimately got the role of Kate Sanders.
Personality
Ashlie is very kind, sweet, and is also friends with Hilary Duff in real life. She also once said in her online diary on her website, "I'm not like Kate in real life".
Charity
Charity is a top priority in Ashlie's life. She's a member of Kids With a Cause, which is an organization that that works on different projects with low-income families, inner city youth, foster kids and cancer patients. She is also involved with the Ronald McDonald House, Assisteens, Long Beach Child Cancer Center, and speaks at local high schools in connection with the DARE organization.
Personal Life
Ashlie was born in San Francisco, California, but raised in Long Beach, California. She has two younger sisters, Jennie and Alisa. Alisa has starred on Lizzie McGuire as a classmate in Matt's classroom. She attended Millikan High School in Long Beach, California. As of 2006 Ashlie is retired from acting. She graduated from Sturm College of Law. Ashlie is now married and she has a daughter. Today Ashlie Brillault is a lawyer in California.
Filmography
Lizzie McGuire: Katherine "Kate" Sanders (2001-2004)
One on One: Regina (episodes "Keeping It" in 2003 and "One on One, One Oh Oh" in 2005)
The Lizzie McGuire Movie: Katherine "Kate" Sanders (2003)
External Links